Visiting Pompeii and Mt. Vesuvius from Naples
I had this naive plan to write all about the Italy road trip right after coming back home but of course, life happens, so I am pretty sure I will be still writing about it around Christmas 😀 Hopefully it won't affect the quality too much although in my experience it's never the same if you take too long to do it. The freshness just doesn't stick around, the consistency weakens and one jumps too much from one thing to another. Well, fingers crossed.
So the day after we arrived to Naples and had our car broken into, we decided to not give into despair and continue with getting through our list of things to see in the area as much as we can, even though having no car at the moment.
We didn't have it all decided as for which day to do what because we like to keep some wiggle room in our plans, so we didn't need to alter much. After some discussion including weather forecast and our current bitterness about the city itself, we agreed that right now we didn't really want to go back to its streets, we needed to clear our heads with something fresh and mindblowing and we lost trust in Naples. So instead we had our breakfast (the owner of the accommodation acted as if nothing happened last night and we didn't feel like trying to talk to her about it again, it seemed pointless), packed our bags and hit the Naples central train station where we quickly found the Circumvesuviana train platform to Pompeii.
I'd like to point out that from now on I was on my phone almost constantly, researching every little damn thing XD Every trip we made, every sightseeing location we were about to visit, every restaurant or cafe, even every parking spot or a carwash, I needed to read the reviews, see pictures of food and find out ahead just exactly what to expect. I couldn't handle any more unnecessary stress at that moment so I googled my fingers off and filled my head with a ton of informations and tips on just about everything, which then made me feel pretty confident and at some points I felt like I have already been there – especially seeing the loads of other confused tourists around us.
One of these moments was when we left the Pompeii train station. I knew right away to ignore all stalls that offered tickets for Pompeii – these are not official. And also, it was Sunday that day, more importantly the first Sunday of the month, and according to one webiste (one and only, though), this should mean that the tickets are free. And they were! Which confused a lot of people in the queue because not even there on the digital boards above the ticket office was this ever mentioned. Well, a nice surprise anyway, and a good save of money. I actually thought it was good for us that no other pages mentioned this because considering the amount of people who came, I can't even imagine how many would there be if everyone knew. But luckily, this was more of the case later, not so much in the morning when we arrived.
So, Pompeii!
Another thing I remember watching several documentaries about when I was a kid and teenager. I was always kinda fascinated by it, and therefore especially enjoyed the Doctor Who episode Fire of Pompeii. But I didn't remember what it actually looked like and I couldn't wait to stand on its streets, not to mention seeing Vesuvius, which is also just this big mysterious thing with a threatening aura. I never pictured myself seeing it with my own eyes, let alone climbing it, so this one Sunday was a big deal.
Thanks to my research, I was prepared this time – had my umbrella in case it gets too hot and we can't find shade (which wasn't problem for us but usually people warn about it). We had refillable bottles, ready to use some of the advertised water stations which is something to really appreciate but honestly I am not sure if it's a good idea to drink it. Didn't taste very good and my, erm, bathroom related health problems returned just after drinking it. I'd suggest boosting your immune system with some probiotics before travelling anywhere, really, I don't know why I forgot to do it this time.
Things that surprised me the most about Pompeii?
The overall look, because I honestly didn't remember jack about what it looks like.
The size of it. Omg it's so big! We have seen maybe half of it and that's mostly just walking through the streets, not even stopping for most of the houses which all have their own history and names attached to it. With a guide telling you all about it, you could easily spend all day here, I believe.
Amphitheatre. Had no idea they have such a thing there. Not to mention that it's probably the oldest stone building of this kind ever.
Its connection to Pink Floyd. Did you know they filmed a completely groundbreaking documentary/gig here and how much it affected all sorts of other famous bands? The place has a whole exhibition dedicated to this documentary called Live at Pompeii. I still need to find time to watch it.
The lines marking where carts where going through regularly, and the age of the city. The streets were overall horrible to run a cart through, I can imagine, but clearly there was a whole traffic system and loads of carts or carriages coming through the same spots over and over left very deep marks in the stones of the pavement. Imagine how many times the carts had to go through to carve a line like that. I also never realized how old the city was even before the eruption. It has been originally settled since 7th century, however the stone houses came later. Some of them date to cca 300BC which means by the time of the eruption they were already older than America is today.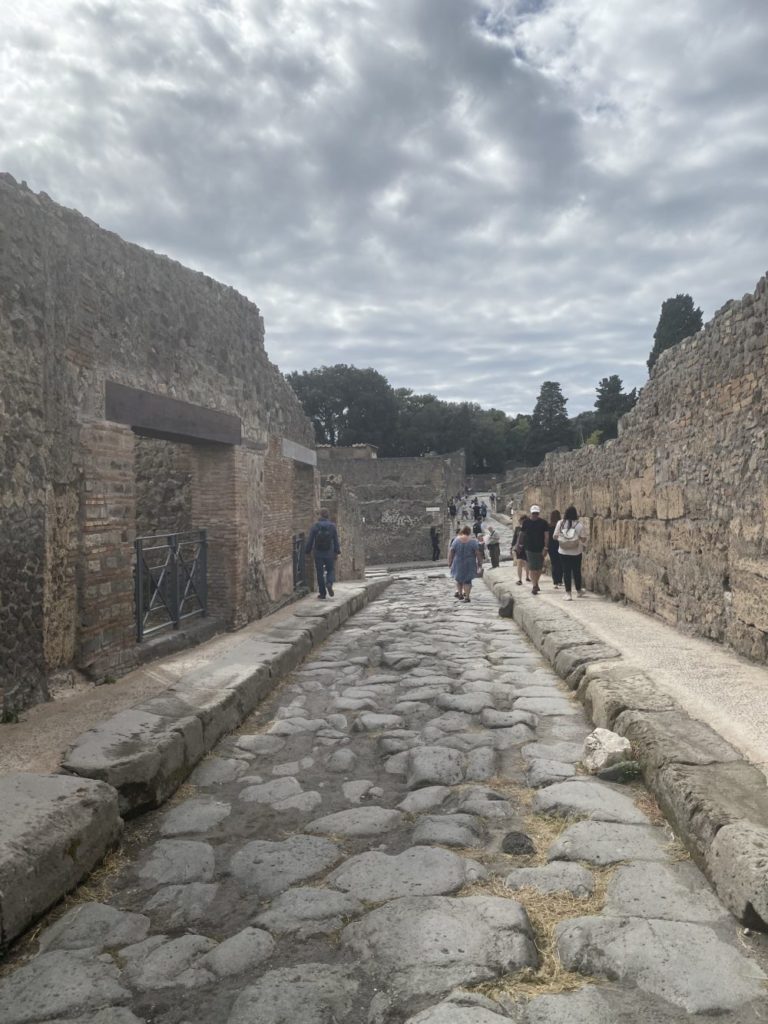 If I ever get the chance to see things from past or future, whether it's because Tardis comes my way or I'll get the chance after I die, Pompeii is definitely one of the places that I'd love to see in its glory, because even with all the informations we have about it and with some reconstructions, it's still so impossible for me to picture what it was actually like and how exactly the people lived. Who knows, maybe one day I'll find out.
---
As the time flew, we realized that to make it to the top of Vesuvius and back to Pompeii in time, we needed to go, so we rushed through the streets with a map, trying to quickly find the main thermal baths (check) and get back to the entrance/exit. There we had to give it a minute because for some reason the gates were closed at the moment and a ton of people waiting outside made us feel kinda like VIPs. When the gates opened, though, it was more like a stampede trying to run us over, so we had to squeeze to the sides and try to get out as everyone was rushing in. I think they maybe make a break when they close the gates (either timed or based on how many people are in), and then after a certain time they reopen. By the size and agressivity of the crowd it looked like they've been waiting for a while.
Anyway, we got out and looked for a bus stop. We found one with a long queue, where signs were claiming we have to buy tickets on board, which agreed with what I found online. So the much expected confusion hit right then when the guy at the door told us we need to have tickets to get on board and pointed us to a ticket office 😀
By this time the bus was overfilled, people seemed to be standing in the line, so our prospects of getting on it didn't seem great or exciting, anyway we went to the office only to get confused even more as the lady explained to us (and some other people) that she doesn't sell tickets for that one (or maybe she does, too) but there is another option to pay a little extra and go on another bus which guarantees our seats and the bus will then wait for us at Vesuvius and bring us back. She said that the "regular" bus doesn't do that and we might not be able to find seats on the way back. Well, we didn't want to risk that and to be honest it was full to the top so although we could smell some scam going on, we gave in and bought these tickets, then proceeded to go to another bus stop where already another very confused couple stood with the same kind of tickets.
The bus was supposed to be there soon so in the meantime I googled to company called Busvia del Vesuvio and found out that it actually seems legit. Apparently this company used to run something a bit sketchier before but now it does this decent bus ride to Vesuv and back, and just as promised, we had no trouble on either way and when reaching the entrance, a nice lady hopped onto the bus to sell us tickets. Now, I don't know how this works, you can apparently buy them either from the ticket office or from her, she sells them for the same price and you skip the queue if there is any, so I don't know what is her benefit and who she works for, but anyway we got our tickets and were promised a guide, too, whom we never waited for and just went straight for the top.
We were told we had limited time as the park will close soon, and I worried a bit so pushed pretty hard to be on top, which didn't make the steep climb any easier, of course. But with the extra speed we were on top in cca 15 minutes so I believe even if you take your time, you should be able to do it in 20/30 minutes tops. That is if you go by bus, I know the visitor car park is a bit on a lower level.
At that point, I felt like we were doing such a random thing, short hike to the top of a hill or something, while weather went kinda bad (as could probably be expected with the massive cloud hanging over the top), but once I reached the top, I was reminded WHERE we actually are and how amazing it actually is, and how I could never imagine, even just few weeks ago, that I'd be standing here, touching the ground on the top of Vesuvius with my fingers and looking over all Naples from here, where our yesterday's problems seemed like such a distant past. It was just exactly where I needed to go to clear my head and gain perspective so for that moment I felt like everything is back on track and this is what we were meant to be doing on this vacation.
I also thought a lot about my dad, how he'd be excited to be there and see it with his own eyes, since I am pretty sure we watched all the documentaries together, not to mention he's a passionate mineralogist/hobbyist.
I may have expected the crater to be even bigger or deeper, hard to say. I think this is my very first volcano and again, we didn't have a lot of time to hang around and completely absorb the experience, so it was kinda just snap a few pictures, touch it, smell the sulphur, try to find Pompeii (I failed on that) and get back to the entrance with some time to spare for gift shopping and attempting to use to toilets outside.
Yes, they do have toilets at the entrance. But the state they were in? Bro, I didn't expect to get the vibe of a music festival here, but here we go, it was really bad 😀 Basically wooden toi tois that weren't emptied or cleaned for a looong time. No further comment needed.
---
On the way back we realized we probably could have used the same bus to get straight to Naples after Vesuvius, but we already had return tickets to go back to Pompeii so we thought whatever, didn't mind taking the train again. Once again we managed to get seats pretty much without any problems, get back to Naples and home (quite rushed through the streets again, as you can imagine :D) and hello bed.
The next day (Monday) forecast looked pretty bad, thunderstorms warnings, so we decided ahead to use that day to recharge, get our balance and further plans together, make it feel more like holiday, like we don't have to do anything, and maybe if it looks ok and we feel like it, go give Naples another chance. And so we did.
Buona notte.
P.S.: I wrote this post in three separate sessions because I just can't find the amount of time to do it in one take so yeah, if it feels blah, that's (mostly) why 😀