Chill in Naples
It was Monday, 7th of October 2019, we spent the previous day cruising around Pompeii and then taking a bus and a hike to the top of the Mount Vesuvius. Since the previous days were rather eventful (apart from arriving to mostly unknown country and finding out everything on the go, meeting its insane homicidal drivers and stressing over unclear rules of speed or paying fees on highways, our rental car was broken into the first night in Naples and our accomodation providers didn't help us at all), and since the weather forecast for Monday was storms, we decided to stay in for that one day, regroup, recharge, and just take a break.
I need balance. Sometimes when things happen too fast (even good things), I get overwhelmed and I feel like I stepped on a slide hidden under the snow and I'm struggling to not fall as I am pushed through events.
I loved the weather forecast. For one, I love thunderstorms and I miss them so much when living in UK where we barely ever get a proper storm, let alone thunder and lightning. And I loved that it was a perfect excuse for a day off. I wanted it feel more like a vacation for at least one day, take time to sip coffee and eat breakfast in bed, take time to be. To digest what we've been through so far and think about how lucky we were in other ways and how this all is going to make us stronger, wiser and appreciating the good days yet a bit more.
Every bit of travelling that we've done until this point has been a crazy adventure of some sorts, even the most mundane sounding trips like an all-inclusive stay in Egypt, actually. Because there is always something that you're not prepared for. There is always some cultural shock and something to worry about, always some scary stories that might not happen to you personally, but just knowing about them makes you more alert but also more scared.
But all of that makes you stronger and better. Every experience is a good experience if you can take it as a lesson and avoid being taken advantage off and making unnecessary costly mistakes the next time.
So we slept in and chilled, we got our breakfast, put the infamous crackers (everybody was giving them to us for breakfast) on the side for an emergency snack or more likely for birds because it wasn't really that edible (it's a blessing if you have some digestive problems but otherwise, what's the deal with them, Italy? :D) and then we headed out once the weather cleared out. It wasn't really that thunderstormy but the rain was decent, at some points definitely strong enough to make us feel happy to be safe and dry in our room.
There were several things that I put down on a to-see list for when we get to Naples. But after that first impression and overall unsafe feeling that we had there, we decided not to explore that much. We just didn't like the city, we felt lost where we were, everyone looked suspicious and we didn't want to spend that much time out, trying to figure out how to properly use public transport and what not. So we just went for a walk to some nearby locations, and to do the most imporant thing – eat Napolitan pizza again.
So we didn't like pizzeria L'Antica Da Michelle. It wasn't cozy, too many people waiting, we almost missed our slot because it was too chaotic and overall I didn't feel that welcome there. Didn't help that I was sick and feeling incredibly heavy for the rest of the night then, having a strong reaction to all that cheese I guess.
But nothing's going to put me off pizza and luckily there are plenty other infamous locations to choose from, so as soon as the sky got brighter, we headed out to the centre to look for pizzeria Gino e Toto Sorbillo, which was only a bit tricky to find as there is actually another similar one very near, owned by Gino's relative, so you have to pay attention to not walk into the "wrong" place.
At Gino's there was a queue again but this time much shorter, much better organised and it felt like a proper restaurant. There was a guy at the front door collecting names, putting them down on paper (instead of handing out numbered tickets), and communicating with his colleagues inside via headset. It definitely felt more welcoming, he spoke much better English, was much kinder to people asking questions and just generally very chill. He'd then call the names so no chance of missing out unlike in L'Antica where they only shouted the numbers and that was mostly in italian on top of that.
Even inside it was much, much cozier. Dark, quite luxurious but cozy interior, here I finally felt like we're having a romantic date and the staff were much nicer, the system just overall better, you could choose from more options and the star of everything? The pizza. Absolutely epic and again so much better – no health problems afterwards, either.
Here I finally started to feel like this is what it was all meant to be like and that we are where we are supposed to be.
After such experience, I felt more inclined to wandering the streets, we explored a bit more of the surroundings and Via dei Tribunali, we found it looking so much like Prague's Old Town, especially towards evening, and we found some comfort in that. I still don't have many pictures from there because I was still super cautious about pulling out my iPhone and becoming a target for thieves. The street was full of people, scooters and tourists but it didn't seem like many of them were having their cameras out so I didn't do it either.
We were admiring the local hand crafts on the market but didn't really feel like in need of buying anything. Like the Prague's Old Town, most of the shops and stalls felt very targeted at tourists but not providing anything really substantional and memorable to take away with us, except when we came across a pretty Limoncello factory and shop with free tastings, where I just immediately knew that this is my new favourite thing about Italy and I bought some tiny teeny gift bottles bearing in mind that our luggage is pretty full as it is, and the 100ml rules for carrying liquids.
We also got to explore the stunning Cathedrale di San Gennaro on our way back which mostly pulled me in for its name (Gennaro Contaldo is one of our quite favourite foodtubers), but once we entered, we knew we discovered quite a gem.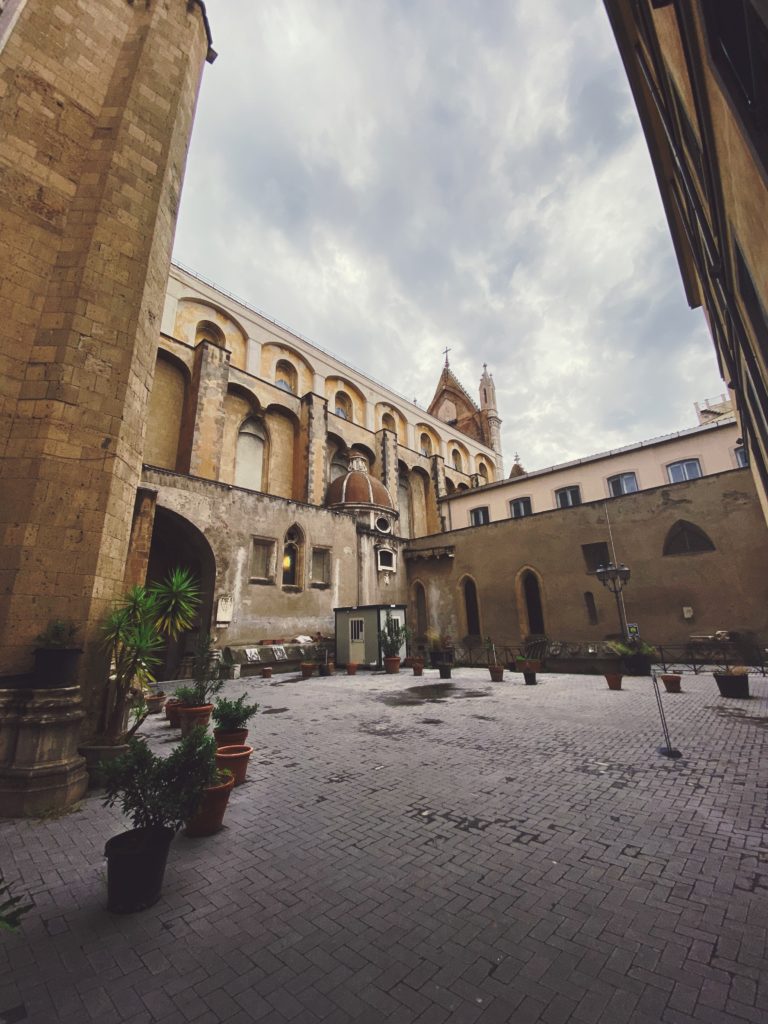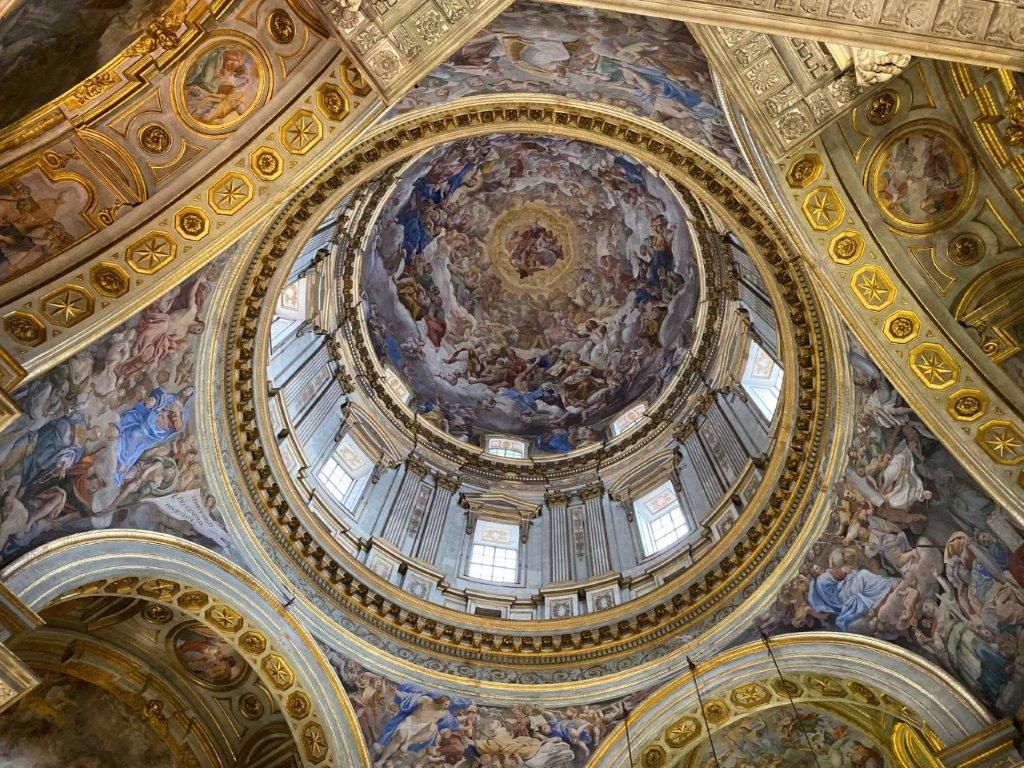 Then in the evening we warmed and finished some leftovers from the evening before (the best pasta in Naples? Made of course by my man :D) and made plans for the next day and after, and that was pretty much it. Some social media, some photo editing and Instagram posting, I think there was perhaps another call with our insurance company involved because there were still things to settle and do about our car situation, but that was pretty much it. Finally a good day in Naples!